WE ARE YOUR HOME IMPROVEMENT SPECIALISTS
A Customized Complement To Modern Decking.
Effortless style, exceptional strength
Durable and design-minded, our powder-coated aluminum railing suits traditional and modern homeowners alike.
Available in a selection of elegant neutrals and backed with the stability only aluminum railing offers, along with Trexs 25-year limited warranty.
Choose from round or square balusters for classic appeal. Got a great view? Consider curving your rails to mimic the sweeps of the garden below, or preserve your advantage point with sleek and spare rod rail. And entertainers, take note: wide, beverage-ready cocktail railing may just be the ideal choice for you.
Rod Rail
No special installation tools or tightening required; a quick and easy alternative to cables
Can be topped with a cocktail rail for added functionality
Curved Rail
Curvable hand railing and swivel brackets unite oppositional angles
Custom order now, enjoy complete freedom of design later
Cocktail Rail
The perfect resting spot for planters, drinks and more
Choose your preferred color of Trex decking to match or contrast your deck treads
Colors
Charcoal Black
Classic White
Bronze
Go Back
PRODUCTS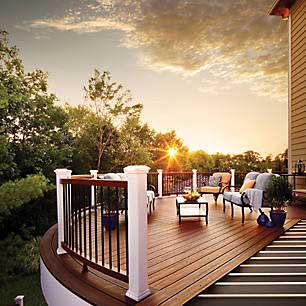 DECK FRAMING & DRAINAGE
Elevations
RainEscape