WE ARE YOUR HOME IMPROVEMENT SPECIALISTS


WHY ELEVATIONS?
Simply put, only Elevations is engineered for outdoor use. See how Elevations outlasts wood and other steel substructures in the comparison chart below.
THINK ABOUT IT: IF YOU'RE GOING TO INVEST IN A LONG-LASTING DECK, DON'T YOU WANT ITS SUPPORT TO LAST JUST AS LONG?

PERFECTION FROM THE GROUND UP
When you daydream about your dream deck, chances are you haven't given much thought to what lies beneath it. Even though your decks substructure may not make the family photos, its actually the most important part of your new outdoor space.

Our durable triple-coated steel beams, joists and tracks create the strongest, straightest and, yes, greenest structures down below.
STRONGER
Unparalleled strength enables cantilevers and dramatic curved deck designs
Longer spans allow for fewer posts and less obstructed views
Triple-coated steel offers consistency, durability and reliability that other materials cant

STRAIGHTER
Dimensionally stable steel stays where you install warping
Consistent dimensions mean a level run from house to edge
Precision engineering ensures surfaces remain flat over time
This Trex deck built by Steve Schneider Construction is supported by Elevations framing.

SAFER
Rot- and termite-proof steel lasts much longer than wood
Non-combustible material has Class 1A fire rating
Rigorously tested for safety
CCRR-0186 code compliance research report approves Elevations for exterior use
Chemical-free, unlike pressure-treated lumber

SMARTER
Neutral finish blends with most decking colors making the substructure less visible from above
Contains a minimum of 25% recycled steel and is a 100% renewable resource
Works beautifully with the Trex RainEscape drainage system
Backed by the Trex 25-Year Limited Residential Warranty

DON'T SETTLE FOR A SUBSTANDARD SUBSTRUCTURE
When planning your new deck, its important to ensure that its substructure can guarantee safety and lasting beauty through decades of outdoor conditions. Where other deck framing systems may seem sturdy and supportive, only Elevations can stand the test of time without shifting, splitting, warping, rotting or rusting.
Go Back
PRODUCTS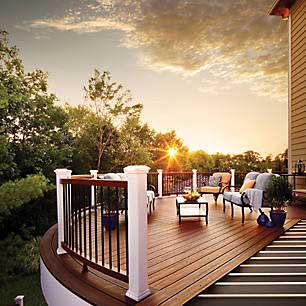 DECK FRAMING & DRAINAGE
Elevations
RainEscape